Description

 RLR Rev 6 STREET
The newest addition to the RLR Rev 6 clutch line.
THE STREET 6
MAKE YOUR VW FUN TO DRIVE AGAIN.
Have you built a big motor only to realize that you had to use a super stiff pressure plate and an aggressive disc, then the leg effort and the clutch chatter made it not fun to just jump in and drive…
Those days are gone forever.
The revolutionary Rev 6 clutch has gone a step further to offer our new Street 6 for high horsepower applications and a easy non chatter engagement to make driving your hot vw fun again.
Both the Rev 6 and the Street 6 make the pedal pressure very light (lighter than stock) and makes shifting a dream.
200-300-400 & even 500 HP applications currently on the Street, and nothing but happy drivers.
If you're tired a giving your clutch leg a workout every time you want to go for a putt, give us a look on our web site or on social media, if you want to talk to us about your ride and the Rev 6 or the Street 6 give us a call.
All our units are sold with the flywheel and are pre balanced so you can bolt it right on and go have some fun.
If you have a wedge mated flywheel you can send us your current flywheel and we can match that wedge pattern to the new flywheel and away you go.
Super Light Pedal Feel
No Chatter
Bolt-in No Modification Necessary
No Need for Pro Shifting, Stock Synchros are fine
Heavy Duty Made in the USA by RLR Ron Lummus Racing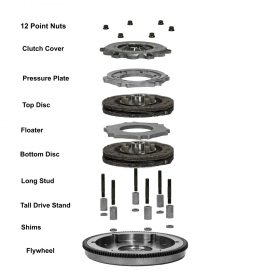 *Click here to read more about Revolution 6!*
     RLR's Black-Magic Clutch Disc Here  
Made to order.